HVAC Preventative Maintenance Plans
Planned HVAC maintenance programs for facilities in NJ, NY, and PA
Why HVAC Preventative Maintenance Plans Pay Big
In spite of many years of numerous published case studies, and even though facility executives recognize that it is far better to schedule HVAC preventative maintenance activities using planned and predictive maintenance tools, most nevertheless continue to operate reactively. The most common reasons cited for this practice is the lack of sufficient resources.
But having a maintenance strategy of "fix and repair" will ultimately end up costing building owners more in the long run. This strategy is not only more costly due to its negative impact on mechanical equipment life, but it's also very ineffective for managing energy consumption. According to ASHRAE studies, even recently commissioned buildings can see as much as 30% deterioration in performance in as little as three years. Relying on a "fix and repair" strategy for your energy management in today's economy is no longer sustainable for most businesses.
In fact, businesses that have implemented comprehensive, planned and predictive maintenance programs with Sander Mechanical find that their total costs can be as much as 50 percent lower than the costs for those organizations that continue to maintain equipment reactively. The benefits of preventative maintenance include:
Extended equipment operating life
Deferred capital replacement costs
Improved operating efficiency
Reduced energy use / energy savings
Early identification of potential problems
Fewer emergency service repairs
Less frequent system downtime
Decreased interruptions to building operations
Increased comfort / reduced occupant complaints
Enhanced safety / mitigated risks
We Offer Customized HVAC Preventative Maintenance Plans
With a planned service agreement that's tailored to meet your budget and operating needs, Sander's technicians conduct regularly scheduled maintenance inspections. Based on your system requirements and manufacturers' recommendations, maintenance visits can be scheduled monthly, quarterly, semi-annually, annually, or anywhere in between.
During each preventive maintenance service visit, a qualified technician will inspect and evaluate your heating and cooling equipment, make needed adjustments, and identify any failures or essential repairs. Other maintenance activities can include:
Changing filters
Tightening and changing belts
Cleaning condenser coils
Lubricating motor bearings
Checking compressor oil levels
Measuring refrigerant charge
Checking for leaks
Testing condensate pumps
Cleaning condensate pans and drains
Testing operational and safety controls
Cleaning burner assemblies
Fire testing
Sander maintains all makes and models of mechanical equipment, including hot water and steam boilers, furnaces, packaged rooftop units, condensing units, air handlers, heat pumps, chillers, cooling towers, pumps, exhaust fans, and TURBOCOR compressors.
Why Choose Sander as your HVAC Maintenance Partner?
Our planned maintenance customers enjoy a preferred hourly labor rate for both HVAC service and controls technicians, and also have the added benefit getting preferential response times in the event emergency service is needed. Our maintenance agreements also include an optional energy benchmarking service to measure your building's current energy performance.
Sander is committed to supporting our customers with customized maintenance plans to keep equipment running at peak efficiency. Our experienced staff possesses a level of expertise and attention to detail that has saved many of our clients from costly downtime and emergency repairs by identifying issues others might miss, and resolving them before they become major problems.
Check out the following link to learn more about our qualifications and HVAC Service capabilities, or contact us immediately to setup an appointment for a free evaluation of your facility.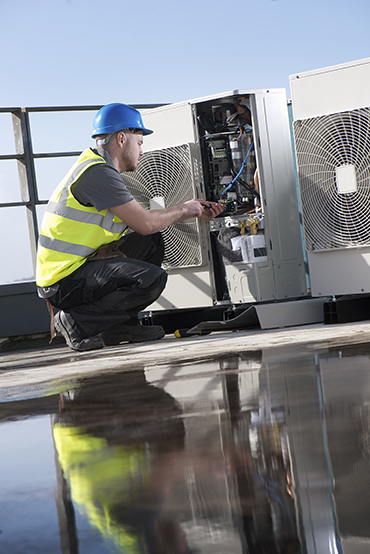 ANSI/ASHRAE/ACCA Standard 180
Our commercial HVAC Planned Maintenance Programs meet or exceed the current ANSI/ASHRAE/ACCA Standard 180 for the Standard Practice for Inspection and Maintenance of Commercial Building HVAC Systems.
ASHRAE and ACCA (the American Society of Heating, Refrigerating and Air-Conditioning Engineers and the Air Conditioning Contractors of America, respectively) recently revised the ANSI (American National Standards Institute) Standard 180. The new standard established in 2018, supersedes the previous version from 2012. You can review ASHRAE's summary of the new standard here.