Commercial HVAC Service for Heating, Ventilation, & Air Conditioning (AC) Systems
Whether your facility is an office complex, clean room, laboratory, manufacturing, or industrial plant, you'll benefit from Sander Mechanical's commitment to excellence in commercial air conditioning and heating service. Covering all of New Jersey, southern New York, and eastern Pennsylvania, make Sander your trusted partner for all of your HVAC service needs. We'll send our experienced personnel to your location for an honest assessment of the work required and a fair, accurate estimate of the associated costs.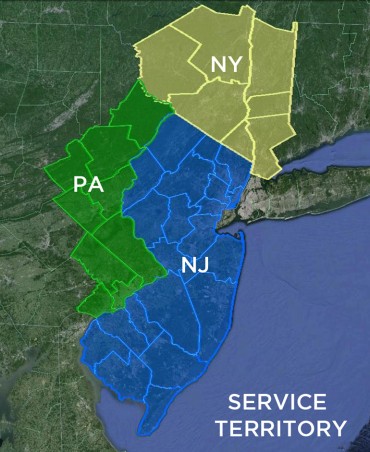 Headquartered in central New Jersey, our workforce of over 35 technicians is dispatched from diverse locations, giving us excellent coverage across our service territory. Our highly-trained and experienced mechanics are the regional experts when it comes to troubleshooting and resolving complex problems and finishing urgent projects.

Our commercial HVAC services include:
Boiler Service
Water and Air Balancing / NEBB Certified TAB Services
System Commissioning
Mechanical Equipment Assessments
Whether you require just routine maintenance, or system modifications, replacements, or rebuilds, Sander is the industry leader to call. The HVAC service department at Sander Mechanical is comprised of courteous, well-trained technicians dedicated to servicing all of your commercial, industrial, and institutional HVAC and refrigeration needs.
We service heating equipment, steam and hot water boilers, furnaces, chillers, packaged rooftop units (RTUs), air handling units (AHUs), pumps, makeup air units (MAUs), condensers, exhaust fans, motors, compressors, evaporators, split systems, cooling towers, controls and numerous other environmental systems and components.
Why Choose Sander for Your Commercial HVAC Service Needs?
Our people make the difference
As an MSCA certified STAR and GreenSTAR contractor, our team of professional mechanics is unmatched. Every one of our technicians continually participates in ongoing OEM factory training and specialized certification programs to stay current with the latest energy-efficient HVAC technologies and solutions. Our EPA certified technicians utilize the latest in refrigerant reclamation equipment to ensure safe handling of materials and compliance with environmental laws. With hundreds of years of collective experience, we provide knowledgeable and professional technicians each and every time.
Technicians at Sander have over 15 years of field experience with the company on average; and lead technicians easily have over 25 years in the field. With unparalleled employee loyalty, we seek out the best, and the best stay with us.
While all of our customers are assured that every employee at Sander is exceptional, we strive to have technicians that specialize in different mechanical applications, enabling us to select the right individual for the specific challenges within a given facility. We use the right people for each unique project. This is yet another aspect of our commitment to service and value for all of our customers.
All employees continually receive advanced training and education, allowing the company's specialized services to be vast and distinct, with a true convergence of education and experience.
Our commitment
Sander is committed to leveraging the latest technology innovations to provide exceptional results. We support our customers with customized HVAC service and maintenance plans to keep equipment running at peak performance. Our planned maintenance programs are designed to keep operating costs at a minimum and reduce costly breakdowns and downtime.
Click the following link for a full listing of our Solutions. Or contact us today to speak with someone about your service needs.
We perform commercial HVAC service on equipment from all major manufacturers, including:
Aaon
ABB
Air Enterprises
American Standard
A.O. Smith
Armstrong Pumps
BAC
Belimo
Bell & Gossett
Berner
Bohn Refrigeration
Bryant
Buderus
Burnham
Carrier
Cleaver-Brooks
Coleman
Concepts and Designs
Copeland
Crown Boiler
Daikin
Danfoss TURBOCOR
DataAire
Dunham-Bush
Envirosep
Evapco
Fujitsu
Fulton
Goodman
Honeywell
Hurst Boiler
Johnson Controls
Lennox
LG
Liebert
Lochinvar
Mammoth
MarCraft
Marley
Mars Air Systems
McQuay
Mitsubishi Electric
Munters
Nortec
Nortek Air Solutions
Penn Barry
RAE Coils
Rheem
Ruud
Siemens
Slant/Fin
SMARDT
SPX
Strobic Air
Stulz Air Technology
Trane
Trenton Refrigeration
Triatek
Tridium
U.S. Boiler Company
Viessmann
Vykon
Weil-McLain
Yaskawa
York