Energy Performance Contracting
Renew your facilities and building systems by leveraging cost savings to finance the project.
Energy Performance Contracting (EPC) is a turnkey service (not unlike design/build construction contracting), which enables building owners to replace aging, inefficient, or high-maintenance equipment with new, state-of-the-art, energy-efficient equipment using little or no capital outlay. EPC can be used to provide clients with a comprehensive set of capital improvement initiatives, including energy efficiency, building envelope, renewable energy, combined heat and power (CHP), and other distributed generation measures.
Unlike shared savings contracts, an EPC often guarantees the performance of the installation, which ensures that the overall savings produced by a project will be sufficient to finance the total project investment. Performance contracting is usually structured to be cash flow positive or budget neutral. It takes the money already spent for energy on monthly utility bills and uses it to pay for the energy infrastructure upgrades and facilities improvements needed. After the contract period expires, the building owner then reaps 100% of the savings generated for years to come.
Improvements are funded by the savings created.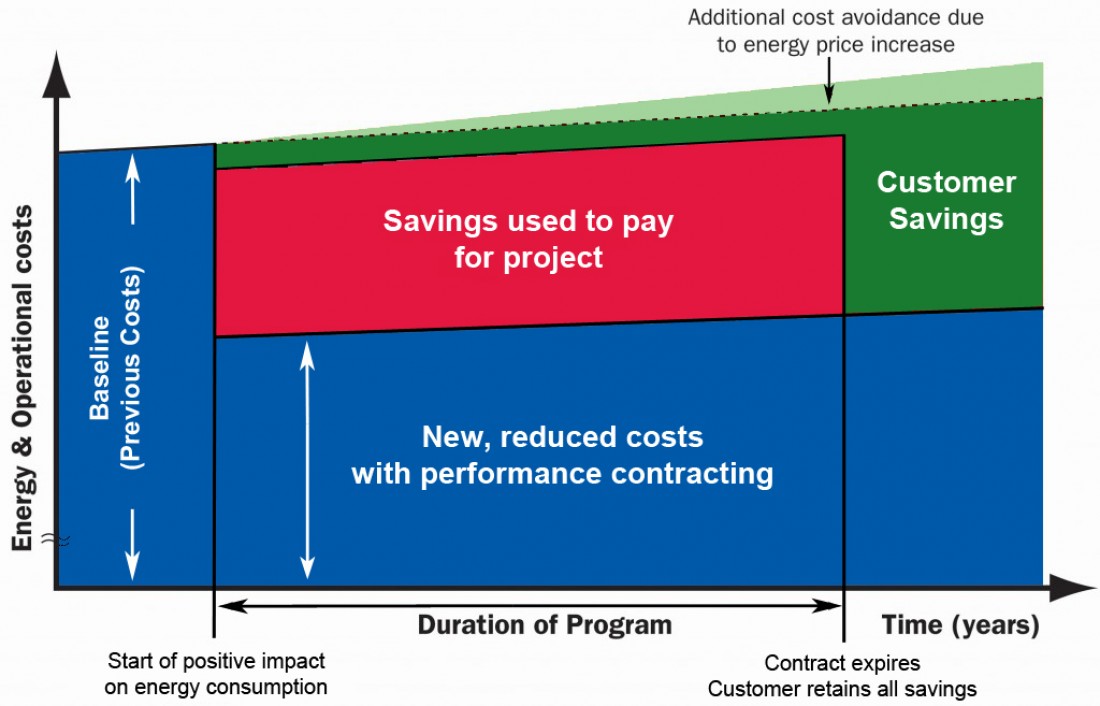 Sander Mechanical works closely with several industry-leading Energy Service Companies (ESCOs) in order to make performance contracting available to its customers. This beneficial arrangement can be leveraged to effectively facilitate the economic feasibility of infrastructure upgrades, especially when the budget for such capital improvements is otherwise lacking.
The team assembled by Sander Mechanical will work to provide an energy performance contract consisting of the following key elements:
Turnkey Service – Provide all of the services required to design and implement a comprehensive project at the customer facility, from the initial energy audit through long-term Measurement and Verification (M&V) of project savings.
Energy Conservation Measures (ECMs) – Custom tailor a comprehensive set of measures designed to fit the needs of a particular facility, reduce energy and water consumption, reduce operating and maintenance costs, improve the comfort of the building, and reduce greenhouse gas emissions.
Project financing – Arrange for long-term project financing that is provided by a third-party financing company. Financing is typically in the form of an operating lease or municipal lease.
Energy Savings Guarantee – Provide a guarantee that the savings produced by the project will be sufficient to cover the cost of project financing for the life of the project.
Typical Energy Conservation Measures Completed under Performance Contracts
High Efficiency HVAC Equipment
Lighting Systems & Controls
Building Automation Systems (BAS)
Energy Recovery Solutions
Solar Photovoltaics (PV)
Building Envelope Improvements (e.g. Cool Roofing)
LED Traffic & Street Lighting
Metering & Energy Monitoring Technology
Automated Demand Response
Energy Star & LEED Certifications
Depending upon the total ECM savings potential, other (non-energy-related) infrastructure improvements can sometimes be bundled into an EPC arrangement.
Contact Sander Mechanical today to see if we can put energy performance contracting to work for your next capital project.